| Overall Rating | 4.7/5.0 |
| --- | --- |
| Communication | |
| Matching System | |
| Mobile Usability | |
| Registration | |
| Support | |
| Terms And Conditions | |


Zoosk is the go-to place for quality dates with real people looking to find the person and relationship that's right for them. Available worldwide, this dating site and app has been matching singles all around the world in a fun, safe and easy way for 13 years. Zoosk - dating made fun, without the games.

Visit Zoosk Website >>
---
Zoosk Communication
| Overall Rating | |
| --- | --- |
| E-Mail | |
| Chat Functions | |
| Video Chat | |
Concerning the features for user communication Zoosk is one of the leading providers. Text messages can easily be sent to other users. Using the live chat feature, new contacts can be talked to instantly. Users can get to know each other better easily via video chat. Altogether Zoosk gives you very good possibilities for contacting other members.
---
Zoosk Matching System
| Overall Rating | |
| --- | --- |
| Personality Test | |
| Profile Matching | |
| Profile Visitors | |
| Block Users | |
Zoosk uses a sophisticated matching system in order to provide you with the best possible partner suggestions. An elaborate personality test is the basis for the suggestion of suitable partner suggestions. User profiles are compared on the basis of suitable criteria. You can see which other members have visited your profile. You can easily block other users to avoid further contact. All in all, Zoosk is exemplary in delivering suitable partner suggestions.
---
Zoosk Search Features
| Overall Rating | |
| --- | --- |
| Picture Search | |
| Keyword Search | |
| Now-Online Search | |
| Search By Profile Criteria | |
| Show New Members | |
Concerning its search functionality Zoosk makes a good impression. A search on the basis of profile photos can be performed in a gallery view. Searching for specific keywords within member profiles is not possible. It is possible to see which other users are online right now. A search for specific profile criteria can easily be performed. Finding newly registered members exclusively is not possible. All in all, Zoosk delivers good possibilities to search actively for a suitable partner.
---
Zoosk Mobile Use
| Overall Rating | |
| --- | --- |
| Mobile Usability | |
| App Usability | |
| Android App | |
| iPhone App | |
In the area of mobile applications, Zoosk makes a good impression. The site is perfectly well usable with mobile devices. The apps for mobile devices are good and easy to use. There is an own app available for Android devices. iPhone owners can install the Zoosk app. All in all, Zoosk leaves nothing to be desired for use on mobile devices.
---
Zoosk Usability
| Overall Rating | |
| --- | --- |
| Login with Facebook | |
| Ease Of Registration | |
| Ease Of Use | |
The Zoosk website is very easy to use. The first-time registration is performed quickly and easily. During the registration, some details have to be provided, but this does not take unnecessarily long. The website interface is clear and easy to use. Overall Zoosk is one of our favorites in terms of usability.
---
Zoosk Popularity
| Overall Rating | |
| --- | --- |
| Facebook | |
| Male/Female Ratio | 51/49 |
| Main Age Range | 20-40 |
Zoosk is a very popular dating website in many countries. Internationally Zoosk has a high two-digit number of millions of users. How the numbers of users are distributed to individual countries could not be determined in our test. The ratio between men and women is even. Zoosk is popular in audiences of different ages and thus a good fit for singles of any age. All together Zoosk is one of the most popular dating websites worldwide.
---
Zoosk Support
| Overall Rating | |
| --- | --- |
| Support FAQ | |
| E-mail / Contact Form | |
| Phone | |
| Helpful Articles | |
| Forum | |
The Zoosk support is decent. The FAQ answers the most important questions quickly and easily. Personal support is easily accessible by E-Mail. A telephone support hotline is available. Detailed help articles are not provided. A user forum is not part of the Zoosk support. Overall the Zoosk support offers solid help while sparing any special support functions.
---
Zoosk Terms And Conditions
| Overall Rating | |
| --- | --- |
| Free Offer | |
| Highest Price | 25.00 GBP |
| Lowest Price | 9.00 GBP |
| Free Trial Period | 0 |
| Monthly Plan | |
The terms and conditions, as well as the pricing of Zoosk, are good. The free membership is not limited in time. The functions are restricted, here. Altogether Zoosk offers a fair service for a good price.
---
Zoosk Summary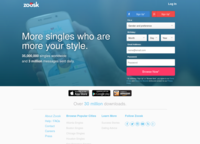 Zoosk is an innovative and very popular online dating site offering multiple ways to connect and interact with other singles all around the world. The platform uses its own behavioral technology to provide members with suitable matches based on their personality and preferences. For those who prefer to look for potential matches themselves, the Open Search function is sophisticated. Registering a profile is free and straightforward, and the website is fun and easy to use. Zoosk is also available as a mobile app, so can be used anywhere. Customer support is good, and their terms of service and pricing are fair. All in all, Zoosk is one of our clear favourites and we highly recommend it.