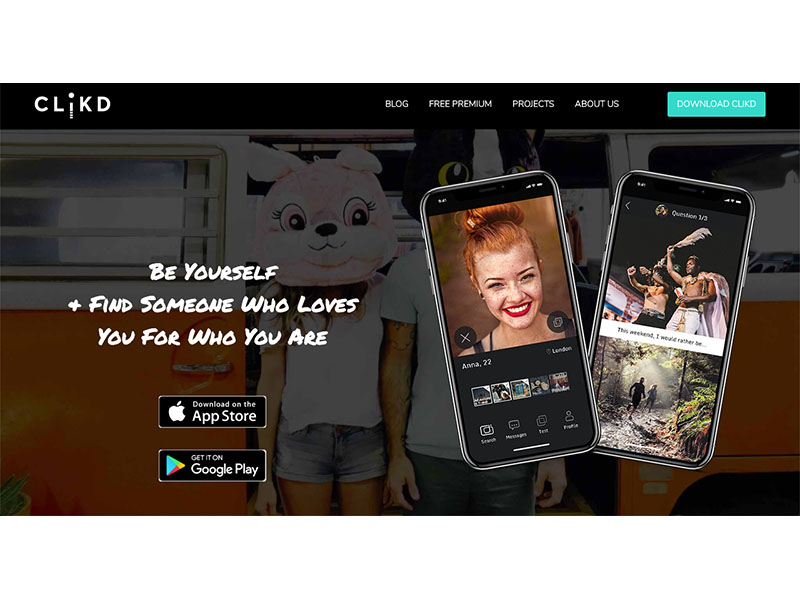 (Image: CLiKD )
CLiKD: The dating app that puts personality first
As the online dating world becomes increasingly superficial, CLiKD offers the option to build real connections and relationships with people who share your values and interests.
CLiKD is a dating app that ensures you are chatting with a person that shares your interests, passions and values. It might look like a regular dating app where you can skip or like a user by the photo, but it's not that simple!
Before you can chat with another user in CLiKD you have to complete a quick 3 question test. You got 2 out of 3 right? Awesome! Now it's the other person's turn to take your test. They got it right? Now you can finally chat! But what if they didn't? Well, in this case, CLiKD probably just saved you time and potential heartbreak.
#1 Demographics
CLiKD is a London-based dating app that focuses on the age groups of Millennials and GenZ who are single in the UK. Nevertheless, the age range can be set manually in the app from 18-60+.
#2 Registration
You can register quickly and easily with the CLiKD app via Facebook or SMS.
After verification and filling your basic information, the fun part starts - the personality aspect. In this step, you will be asked to choose topics that are important to you and to create the 'Dealbreakers'- 3 random questions you answer about your relationships, life, and general preferences.
#3 Matching Process
CLiKD prides itself on being a dating app that focuses on users' personality and values, so the matching process is quite special. As you open the app, you get your daily 'recommendations' - users that match the interests you have picked upon registration and your age and location preference.
You can choose if you want to like or skip the user you see, but to match with someone on CLiKD you have to pass the user's 'Dealbreaker' test, and they have to pass yours.
#4 Contact
After passing the user's test, the ball moves to their court and they would have to pass your 'Dealbreakers' test as well. If they decide to take your test and they pass it, now you can chat!
But what if they don't? CLiKD has a 'second chance' feature for premium users which offers one extra chance to get the 'dealbreaker' right.
After successfully completing the test, the chatting option is available and you can chat with your match in direct messages.
#5 Cost
CLiKD is free to download and to use. You can upgrade to a premium monthly subscription for £18.99 or go with a lifetime subscription for £89.99. This allows you to get unlimited daily recommendations, give users a second chance, send unlimited 'Super Likes', see other users' answers to your test, and be noticed even more.
#6 Safety
The team at CLiKD puts great emphasis on user safety. Every new account that is made on CLiKD will pass through moderation within its first 2-3 days to confirm it meets CLiKD safety standards and regulations. In addition, the strict filtration process that the 'Dealbreakers' test provides help avoid fraudsters. In case you wish to block or report a user, it can easily be done through the app.
#7 User Experience
The app interface is clean, easy to use,and simple to understand. It's available to download both on iOS and Android. For your first steps in the CLiKD app you will receive helpful pop-ups with information and tips to get you started. CLiKD gets bonus points for incorporating witty GIFs throughout the app.
#8 Support
If you have any questions or problems which aren't resolved by the informative Q&A section on CLiKD's website, you can always reach the CLiKD support team by email.
Conclusion
CLiKD has a refreshing concept of online dating that focuses on personality and interests - not only looks. The requirement of correctly completing the 'Dealbreakers' tests from both sides ensures that you are chatting with a user that has similar views to you. In addition, the option to easily create your own 'Dealbreakers' questions to express your values and goals allows you to apply the strictest of filters before ever engaging in a chat with someone. Those features allow a safe and smooth cruise in the online dating world, even for beginners.